Alien Cyborgs, was getting ready for spring cleaning went through their closet and dug a few  gems from Microsoft to giveaway! We came across 1 years worth Xbox 3 Month Live Gold Membership Codes, a Halo T shirt, a Halo 4 game and a 320 GB Halo 4 xbox 360!
Ok, ok, ok, it's not an Xbox One…but HEY, what do you want for FREE?! All you have to do is go over to our FaceBook Page, LIKE the page, LIKE the Graphic, SHARE that graphic and tag 3 unique friends! If we find you guys circle jerking and tagging the same 3 friends over and over, your out! These 3 friends have to like the page and they have to tag 3 unique friends and so on and so on. Oh, and a funny comment on the graphic wouldn't hurt either!
Is that a lot to do for a free Xbox 360? I dunno…do you want it?! SOMEONE is gonna get it…might as well be you!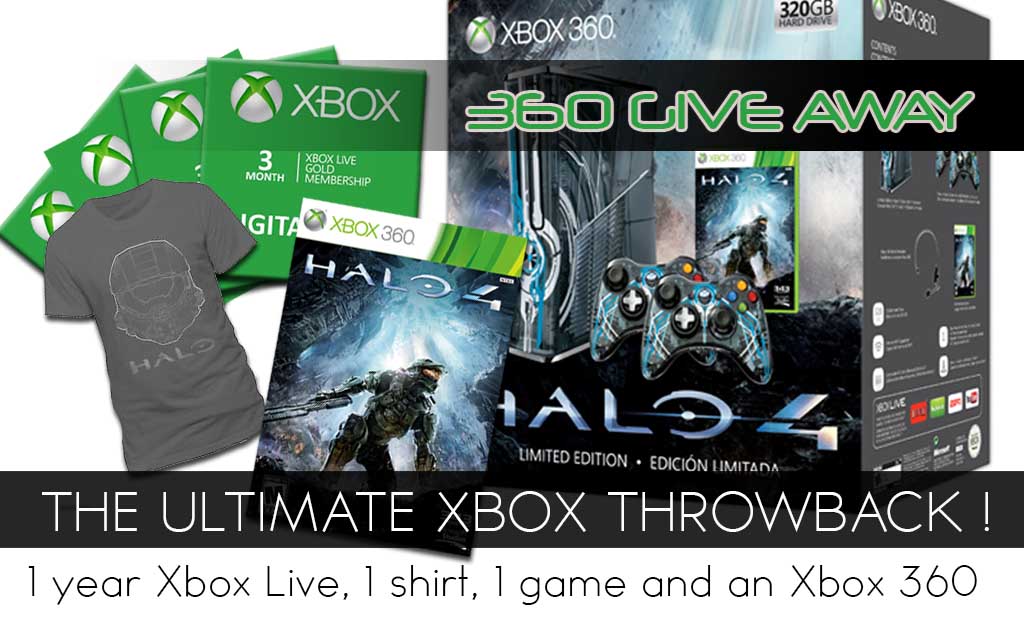 The package comes with 1 years worth of Xbox Live in the form of 4 x 3 months of XBOX LIVE Gold Codes, 1 Halo Master Chief shirt…you get to pick the size and a Limited Edition Halo 4 Xbox 360 with a 320 GB hard drive!
All you have to do is follow the directions above, the winner will be chosen on March 15th by 5pm PST. The winner will have 24 hours to contact us, if the winner does not contact us we will move on to the next eligible winner. If the next eligible winner does not contact us within 24 hrs we will move on to the next and so on. The winner will be notified via FB Private Message,  so please like the page as that will be our only means to contact you! * This contest is open to any viewer in the U.S or otherwise who has liked our FB page. You must tag at least 3 unique friends who you think would like to know about the giveaway. It does not matter how often you tag a friend, your name will only be entered once. The winner will be chosen at random.
Good Luck and Speak Out With Your Geek Out!
SPEAK OUT WITH YOUR GEEK OUT
---
Disclaimer: The views and opinions expressed in these articles, blogs and podcasts are those of the individual authors and pod casters. They do not necessarily reflect the policy or position of AlienCyborgs.com, their hosting company or any other of their affiliates. These blogs are intended as entertainment and opinion pieces only. These blogs may contain strong language, sex and control substance use, these blogs are meant for a mature audience only.
All Images, Videos, Characters, Logos and I.P are property of the prospective owners and appear courtesy of the owners and are not owned by Alien Cyborgs. Alien Cyborgs does not own any of the rights to any of the properties seen in this post.
"To have something you've never had, you have to do something you've never done."