Its not just their ability to transport you to worlds where you can fight evil humanoid playing card soldiers, nor is it, their ability to be a benign and vindicated avenue for military annihilation of fictional national invaders. Instead, to me, the greatest benefaction video games pose is the closeness they brought to me and the people I love and the resulting increase of value to my life.
I remember being around 8 years old, hovered with my family around our 1980's, 10inch television, playing the first released Mario Brothers on our old NES, taking turns seeing who can get the highest amount of coins in the least amount of time.  Or, when I was around 11, sitting with my Dad trying to figure out the best route away from the cat in the pac-man knock off game compliments of our old Commodore.
These are a few of my favorite things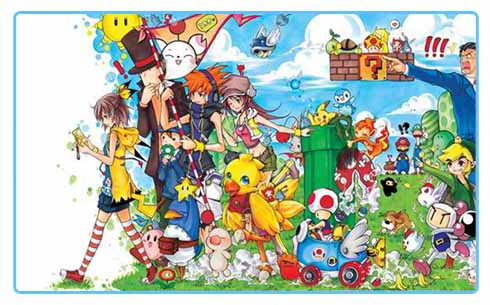 Or more recently, celebrating my 28th birthday with a group of my closest friends by having a Street Fighter tournament on the Wii, of which I was owned, and on my birthday no less.
It's not the progressive forms of technology that made each one of these life experiences more memorable, or the world, planet or toy we were able to yield, destroy or defend. It was the people I was able to share all of those things with. It's the people that make playing video games, computer games, or any game, more memorable, more magical. It's those people that I experienced life with, whether at the time they were real, CG, or 8bit that have increased the value in my life, and I owe a lot of that value, to video games.
All Images, Logos, Characters, Trademarks and IPs are property of Nintendo and Commodore USA and are not owned by Aliencyborgs.com