Who doesn't love the Old Nintendo NES? The Old Gray and Black game console, the classic controller…the "Magic Nintendo Blow" to get the dust out of the game cartridge?
We first saw this controller while trolling the Internet looking for something cool to post. The Internet brought me to the Buffalo USB NINTENDO PC GAME PAD. Now this piqued our intrest and got our attention.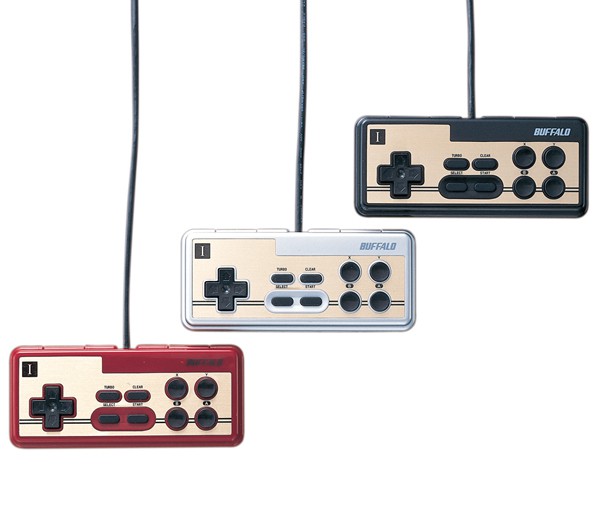 We tried to buy it from www.geekstuff4u.com only to be greeted with a big  red "Out of stock" message and another one that read: "This product is no longer available. Please Contact Us for further information, or any demand"
This is how pages reads…verbatim:
"Back in time with this Old School Retro Controller to play to your favorite games on your computer! You were looking for a solution to play to your old game on computer and with fun? Here's the ultimate solution: the Buffalo's Game Pad. Like the Famicom controller that inspired it, the Old Skool Retro Controller fits comfortably in the hands and its button configuration makes it ideal for retro games"
Damn, strike one…at least there were some cool pics but all it did was toss gas on the fire! NOW I HAD TO HAVE IT!
More Google searches brought us to audiocubes.com only to find the same out of stock message…WTH?! Thats Strike Two!
Not to be thwarted I press on..
Finally, Google leads me to: usb.brando.com  Bling, Bling, Bling! All I can hear is the sound of Mario collecting coins!
 Buffalo USB Nintendo PC Game Pad
Product Code: #UGAME000900
Price:US$22.00
Shipping Fee:  US$ 3
Total: US$ 25.00
Features:
– USB 1.1 connection
– 8 buttons design, with Turbo button for automatic firing
– Cable length: 1.8m
– Supports Windows 7 (32/64-bit), Vista (32/64-bit), XP, 2000, ME
Direct X 7 or later is necessary
– Dimension: 124 x 54 x 16mm (approx.)
– Weight: 96g

Now I can buy a Brand New Controller to play all my old school mimes and emulator games on New my PC with my surround sound! I guess I cant blame it on my controler anymore, huh?
Amazing what a little perseverance and determination can do! Isn't the Internet cool?