So last year we had an "Ugly Sweater" party and the "Secret Hideout" , There was lots of eating, drinking…lots of drinking and being merry. In the middle of the party din a familiar set of  digital "chirps, whistles and warbles" catches my ears. 
"Heeeey, I know that sound…."
It was unmistakeably R2-D2. So, I do what any self respecting Geek would do and I go to investigate. I ask all our drunk and rowdy party guests deck out in bad sweater "….did anyone hear R2?" Some of the girls look at me like I just asked them if they would like to see my light saber collection…whatever with them. Finally, one of the homies Ronnie from NYC says. "Yo, that was my Droid phone".
 Ronnie then proceeds to pull out his Droid with of all things…an R2-D2 case! "How fitting", I said.
Needless to say we became fast friends and continued to drink and party the night away. Its aways cool to meet other Geeks in a crowd of  Non-Geeky people. Specially since everyone elses was talking about work,  IPAs or Fixed Gear Bikes. Fixed Gear Bikes..what the fuck?  Who are you and why are you in my house!?
Anyway, here is the Pic I snapped with my iPod2: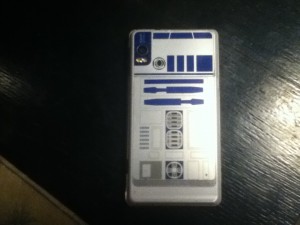 So I decided to do some more reasearch and I was floored with what I found,
Verizon Wireless released a DROID R2-D2 phone by Motorola! WOW!
* After seeing his droid and seeing all the cool stuff this Droid can do, I now look at my iPod 2 with just a tad bit of dissapointment…sorry Steve.
Here are the deets straight from the Verizon Site:
To celebrate 30 years since Star Wars hit theaters, Verizon Wireless presents the DROID R2-D2 by Motorola–featuring a graphic design that looks like the iconic Astromech Droid. It also comes packaged in a custom box resembling carbonite and it includes a Star Wars media dock and wired stereo headset. The phone also comes pre-loaded with exclusive content, including R2-D2 notification sounds and ringtones, four live wallpapers, R2-D2 Clock Widget, "The Best of R2-D2" video with the original Cantina music, and exclusive Empire Strikes Back Binoculars app.
Based on the Motorola DROID 2, the DROID R2-D2 runs the latest Android operating system–OS 2.2 (aka, Froyo)–which provides a faster overall Android experience as well as greater multitasking capabilities. You'll be able to receive notifications, listen to music, and even record GPS data without keeping the application open. And it features a plethora of new enhancements, including an improved QWERTY keyboard, full push corporate e-mail, and Adobe Flash Player 10.1 for access to the full Web. It also offers enhanced Exchange support, with Calendar syncing, Global Address Lookup, improved security, auto-discovery, and more.
Sporting a new super-slim form factor, the DROID R2-D2 offers a redesigned symmetrical keyboard with raised keys for more responsive typing to push out notes and status updates. Speech-to-text input and the virtual multi-touch keyboard (accessed via the 3.7-inch touchscreen) allow for quick messaging, and you can use the Swype keyboard enhancement for even faster input–with up to 50 words per minute using one continuous finger motion across the screen keyboard (learn more about Swype below).
With integrated Google technology, DROID R2-D2 brings one-touch access to the popular Google mobile services millions use every day, including Google Search by voice, Google Maps with Street View, GTalk instant messaging (with presence capabilities), YouTube, and Picasa. The DROID R2-D2 also provides easy access to both personal and corporate e-mail, calendars, and contacts supported by Exchange Server and Gmail. And through Android Market, you'll get access to thousands of useful applications, widgets, and fun games to download and install on your phone, with many more apps being added every day.
In addition to high-speed connectivity on the fast and reliable Verizon Wireless 3G network, you can also share the built-in 3G Mobile Hotspot via Wi-Fi among five devices–laptop, another phone, MP3 player, and more (additional service charge). (See more details on optional Verizon Wireless services below.)
You'll also enjoy a wide range of multimedia entertainment with the DROID R2-D2, including BLOCKBUSTER On Demand presented by V CAST Video for purchasing, renting, and viewing movies right on the phone and the NFL Mobile app for live news and game updates.
Preloaded social networking widgets allow you to sync and stream your feeds and updates from Facebook, Twitter, and MySpace all to one screen in real time. Other features include a 5-megapixel camera/camcorder with DVD-quality video capture, 8 GB of onboard memory and a pre-installed 8 GB memory card, ultra-fast Wireless-N Wi-Fi networking, Bluetooth for hands-free devices and stereo music streaming, GPS turn-by-turn directions via free Google Maps with Navigation (Beta) as well as VZ Navigator, and up to 9.5 hours of talk time. DROID is a trademark of Lucasfilm Ltd. and its related companies. Used under license.

Key Features
Fast 3G connectivitythanks to the reliable Verizon Wireless EV-DO, Rev A network
Powered by the Android operating system(version 2.2, Froyo) with deep integration of Google services and access to thousands of apps to customize your phone via the Android Market.
Advanced multitasking capabilitiesallow you to receive notifications, listen to music, and even record GPS data without keeping the application open.
Full Suite of Google Appsincluding Google Maps with Street View, transit, and Wikipedia information; GTalk with Presence; Gmail; YouTube, Latitude, and Google Calendar
Wireless-N Wi-Fi networking (802.11b/g/n)for accessing home and corporate networks as well as hotspots while on the go.
3G Mobile Hotspot:The DROID 2 comes travel-ready with a built-in 3G Mobile Hotspot–a Wi-Fi hotspot that can be shared among five Wi-Fi-capable devices. The 3G Mobile Hotspot is the perfect family vacation companion, and at $20 for 2 GB and 5 cents per megabyte overage, it provides an allowance big enough for sharing with the entire family for downloading games, Internet access, and more.
Enjoy Facebook, MySpace, and Twitter all in real-timewithout logging into and updating multiple applications. Updates synced and streamed to one screen waiting for you to view it when you want.
Universal Inboxto view all your texts, social networking messages, and e-mail accounts in one place.
Real HTML Web browsingprovides more pages and better Web content delivered efficiently to your phone (Android Webkit HTML5-based browser).
Swype input system allows you to input text faster and easier by gliding your finger around the keyboard, moving from letter to letter in one continuous motion. The Swype technology then calculates what word you're intending to type (learn morebelow).
Integrated GPSwith a choice of navigation apps:
–Google Maps Navigation (Beta)provides free, pre-loaded turn-by-turn voice guidance. Powered by Google and requiring an Internet connection, it enables you to simply say "Navigate to [your destination]" to get on your way. See live traffic, use Street View or satellite imagery to view your route, and get access to the most recent maps and business information from Google Maps without ever needing to update your device.
All details, texts and images belong to Verizon Wireless