Another Great Alien Cyborgs Giveaway! Enter to win this Classic Dartboard and Case. The front of the case features an image of the Star Wars Celebration sold out lithograph "Last Daughter of Alderaan" by famed comic book artist Adam Hughes. It depicts Leia in the iconic metal bikini holding a Vibro-Ax in the desert sun. A perfect addition to your game room, Geek Cave or bar!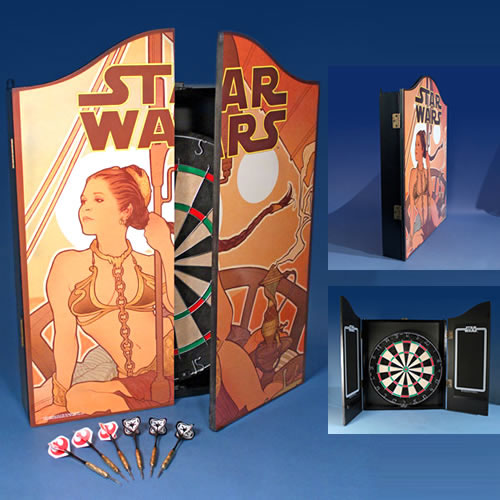 Give Away Rules:
To become eligible for to win a chance for the Adam Hughes Princess Leia Dartboard you must follow these simple rules:
1) You MUST "LIKE" the Alien Cyborgs Facebook Page! Those of you who are members of the page are already half way there!
2) You MUST "SHARE" the ""Last Daughter of Alderaan" Promo Graphic on your page!
3) You MUST get a friend to "LIKE" the Alien Cyborgs Facebook page to become eligible! For every friend that you get to LIKE the page it gives you another chance to win!
4) Lastly, YOU MUST message us via Facebook and send us the name of the "CONFIRMED" friend that has LIKED the Alien Cyborgs Facebook Page.
Congrats, YOU are now eligible for a chance to win…but your friend is NOT! If He/She wants a chance to win, He/She must repeat the steps above! They must now get another friend to "LIKE" and SHARE the Alien Cyborgs Facebook page. Then they must message us via Facebook with a name of the "CONFIRMED" friend who has LIKED the Alien Cyborgs Facebook Page.…and so on and so on and so on! Deadline midnight 03/24/13. Winner announce within 48 hrs.
Just follow the rules and don't worry about anything else, if you win we will send out your prize free of charge…you won't even have to pay for postage and handling!

Product description:
Product Dimensions: 3.5 x 19 x 25 inches ; 25 pounds
Shipping Weight: 5 pounds
Comes with two mounted chalk scoring tablets and three Rebel and Imperial Seals of printed flights for customizing your favorite darts.  *DARTS NOT INCLUDED*
---
Disclaimer: The views and opinions expressed in these articles, blogs and podcasts are those of the individual authors and pod casters. They do not necessarily reflect the policy or position of AlienCyborgs.com, their hosting company or any other of their affiliates. These blogs are intended as entertainment and opinion pieces only. These blogs may contain strong language, sex and control substance use, these blogs are meant for a mature audience only.
All Images, Videos, Characters, Logos and I.P are property of the prospective owners and appear courtesy of the owners and are not owned by us. Alien Cyborgs does not own any of the rights to any of the properties seen in this post.