Alien Cyborgs has a small Q&A with Adam Heiney, 27 year old artist and owner/operator of "OVERWORLD CREATIONS".  Adam hails from Walnutport, Pennsylvania just outside of Allentown and creates some very cool and familiar artwork out of some really interesting art supplies. Using Retro Video Games as the central focus of his art and business, Adam caught our eye and agreed to do a small interview. We caught up with Adam after a busy weekend at Lehigh Valley Comic Con a local Comic/Video Game Convention…
Alien Cyborgs: I've seen artists that do all manner of geekery: Graffiti, Animation, 3D, Painting, Illustration…but you do something a little different. Can you tell us what it is you do and what medium you work with?
Adam Heiney: I mainly work with Perler Beads®. They're a craft toy you might've played with as a kid. Perler Beads® are little plastic cylinders you place down in whatever pattern and then iron them together. With these I make any and all things from retro video games. Anything from the 80s and 90s of gaming to even modern games made with that retro, pixilated style. I also do make smaller video game objects by cross stitching with embroidery floss on plastic canvas.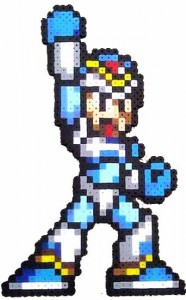 Alien Cyborgs: Wow..thats awesome. I really like your work and my brother MR77 (MegaRam77) loves your Mega Man stuff. The  beads really add to the very distinct look of 8-bit that is indicative of Retro Games. What do people usually do with your artwork? Do they sew your work on as patches? Do they turn them into wearable art? Personally, I would use your art work to decorate the coolest Christmas Tree ever!
Adam Heiney: "Oh, you could do all of those things. The cross stitched sprites I make do have a plastic edge to the outside that leaves plenty of room still to sew it to an article of clothing or a knit cap. Mainly though, I make them into keychains or necklaces. As far as my art made of Perler Beads®, the main intent of the larger pieces is wall decorations, smaller sprites could be used as refrigerator magnets and yes, hung on a Christmas Tree during that time of year!"
Alien Cyborgs: How did you land on Perler Beads®? What made you think about using them in such a Geeky way?
Adam Heiney: Well, believe it or not I actually started doing pixel art on graph paper, combining shades of colored pencil to get just the right color, until one day I saw a sprite of Paladin Cecil from Final Fantasy IV in the community section of an issue of Nintendo Power, it was made out of beads and I thought, "…that's so awesome to be able to physically hold a character I used to see on my T.V. screen when I was little and played Super Nintendo."  Although it actually took me a bit to get around to making Paladin Cecil because I didn't have the right colors at first. My very first sprite (which is still hanging on my wall) is 8-bit Mega Man…MR77 oughta like that one!
Alien Cyborgs: So is it safe to assume that you read comic books and play video games?
Adam Heiney: I do read the occasional comic book. I'm not real big into "The Big 2" (DC and Marvel) I more or less just read comics of universes I'm already into, such as Dark Horse's Star Wars comics and the Mega Man comics. And yes, I play video games, I wouldn't be so passionate about making Perler Art if I didn't. I've been playing video games probably since I was 5 years old or so, as long as I can remember…[I remember] sitting with my dad watching him play Populous and Legend of Zelda and all the Mario Bros. games.
Alien Cyborgs: Is it safe to say that you're a bit of a Geek then?
Adam Heiney: Yeah, I definitely "Speak out with my geek out" on a daily basis.

Alien Cyborgs: <Laughs> Nice plug bro, thanks! Speaking of plugs, please tell us a bit about your business "Overworld Creations". When did you start?
Adam Heiney: Welp, obviously it started as a hobby. I started making Perler Art around October of 2011. I created my Facebook page in March of last year. At first it was called "Purely Pixels" but I wasn't crazy about that name, I wanted it to sound more original but still have something to do with video games. And then I remembered that a lot of my favorite video games from the good old days were RPGs, action adventure, etc., almost all of them had some sort of "overworld map", Final Fantasy, Legend of Zelda, even Super Mario Bros. 3 and Super Mario World… so I renamed it "Overworld Creations." It had a nice ring plus the word creations opens up the possibility of making things not just out of Perler Beads®. I also do the cross stitching and I even  mount Perler Beads® sprites on painted canvas for that added effect
Alien Cyborgs: Ahhh….hence the name! Nice!
Adam Heiney: Yep! As far as the business side of things..I have an Etsy Store that I usually keep stocked with at least 10 to 15 items for sale, I can also take custom orders any way you can get a hold of me and take payments via paypal. Also I've begun going to local comic book/anime/gaming conventions and setting up a table of my wares.
GALLERY




Alien Cyborgs: So, you do commissioned work as well?
Adam Heiney: Oh, I love commissioned work. When I first started this as a hobby one of my biggest issues was simply thinking of WHAT to make, because the possibilities are nearly limitless.
Alien Cyborgs: Do you like to show at conventions? What Cons have you shown at?
Adam Heiny: Yeah, I'm trying to find as many conventions in my area as possible. Sometimes it's hard cuz they all fall right within the same week or two in a month and it's kinda hard to make sure you have enough art made to sell at both conventions. Sometimes it's stressful getting things made and at the same time you wanna take into consideration what kind of convention it is so you know what direction to take your art to appeal to the majority of attendees. So far I've only done one…last saturday actually. It was the Lehigh Valley Comic Con."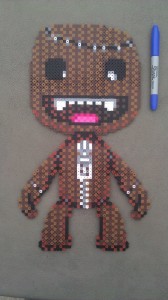 Alien Cyborgs: Nice! How did it go?
Adam Heiney: It actually went quite well for my first convention, a lot of compliments on how everything looked. questions asked if I had this specific sprite they were looking for etc. I made a fair bit of money (at least enough to start making back what I have invested in supplies) andIi even got a little bit of publicity from a group of guys that run a web series on YouTube who have done episodes with the Angry Video Game Nerd
Alien Cyborgs: Well, done sir! As long as you're getting your name out there…that is a Great Start!
Adam Heiney: Yeah, I figured that was just as valuable as making a sale. Two of the guys from the web series bought something anyway! <laughs>
Alien Cyborgs:
I hope they gave you a crazy shout out on the Vidcast. What are some of your favorite projects that you have created?!
Adam Heiney: Favorite projects..well, I always enjoy making robot masters from the original Mega Man games so those're some of my favorite sprites I've made.  I also made a quite large Princess Peach for my girlfriend, it's maybe 15 inches tall. Not that I don't get enjoyment out of making sprites for people's commissions, but the ones I enjoy the most are the ones that let me reminisce about being a child and sitting in front of the NES or SNES for hours on end… Legend of Zelda sprites, Final Fantasy sprites, the big names.
Alien Cyborgs: Sweet…What is in the future of Otherworld Creations?
Adam Heiney: More conventions! I'm looking into one in Bridgewater, NJ as well as a fairly large convention in Philadelphia in September. It'll be more geared toward my target audience… a convention called Retro Con.

Alien Cyborgs: I know that Con, they post some really great stuff on their FB Page. I love your artwork, I think its so cool that your art work is a PHYSICAL thing. It is very cool to be able to hold artwork in your hand as opposed to just staring at it on a monitor or hung up on a wall. I know fellow admin MR77 would LOVE your Megaman stuff.  Man, I wanna wish you luck and I know you're going to sell a bunch of your art.
Adam Heiney: I hope so!
Alien Cyborgs: Thanks for letting us feature you our humble lil' site!
Adam Heiney:  Any time
You can see a lot of Adam's work on his Facebook Page or visit his Etsy Store: Overworld Creations
---
Disclaimer: The views and opinions expressed in these articles, blogs and podcasts are those of the individual authors and pod casters. They do not necessarily reflect the policy or position of AlienCyborgs.com, their hosting company or any other of their affiliates. These blogs are intended as entertainment and opinion pieces only. These blogs may contain strong language, sex and control substance use, these blogs are meant for a mature audience only.
All Images, Videos, Characters, Logos and I.P are property of the prospective owners and appear courtesy of the owners and are not owned by us. Alien Cyborgs does not own any of the rights to any of the properties seen in this post.