Purchase "Suck It, Wonder Woman!"The Misadventures of a Hollywood Geek ,online at Amazon Books
Title: "Suck It, Wonder Woman!": The Misadventures of a Hollywood Geek
Written by: Olivia Munn with Mac Montandon
Publisher: St. Martin's Press
Publication Date: July 6, 2010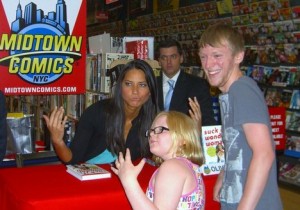 Book Description:
In this hilarious collection you'll find essays like "thought's About My First Agent's Girlfriend's Vagina," wherein Olivia skewers what it's like to live in Hollywood. In "Sex: What You Can Do to Help Yourself Have More of It," she frankly gets down to the business of getting it on, including advice on how to appropriately wrap it and bag it. In "What to Do When the Robots Invade (Yes, When!)," Olivia offers valuable information on . . .  what to do when the robots invade! And just when you thought she couldn't get any more geeky, she can. This book also includes such handy treasures as a timeline of great moments in Geek history, a flip book, an unofficial FAQ section, and a nifty (read: smokin') foldout poster.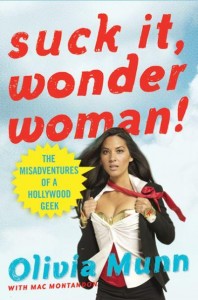 Small excerpt from the book:  Anyway, I decided to start doing skits for Attack of the Show. This was around the same time that rumors were circulating that Wonder Woman was going to be made into a feature film. I called up G4's comic book expert and my close friend Blair Butler, and told her I'd love to do a skit about Wonder Woman and what it's like for her to be a female superhero—there are no pockets in your super-spandexy hot shorts, invisible jets are hard to find and the bad guys are always hitting on you. We shot the Wonder Woman skit and it was so much fun. I put on the spandex starry shorts, red bustier, tall red boots and headgear. I felt . . . powerful and indestructible— I felt like a superhero! I felt badass enough that if I saw the real Wonder Woman I would've told her to suck it! It's funny how putting on a costume can completely change your state of mind and how you walk. I totally now understand how everyone looks forward to Comic-Con and dressing up. You feel invincible and strong and any social awkwardness you might normally have is hidden behind a mask . . .
About the Author: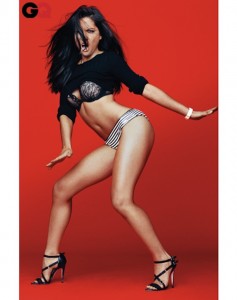 Olivia Munn is an actress and comedian. She is the star of NBC's sitcom Perfect Couples and a correspondent on Comedy Central's The Daily Show with Jon Stewart. Rolling Stone named Olivia one of the "Best Characters on TV" in 2010. She was anointed the "Queen of Comic-Con. The New York Times, LA Times, Wall Street Journal, New York Magazine and USA Today have all shown their support of her sardonic humor. Known for going above and beyond to show her appreciation to fans, who she calls "more like friends than fans," Olivia says, "They've given me this amazing opportunity and life and I am beyond grateful." Raised between Oklahoma and Tokyo, Japan, she now resides in LA.

Video: Watch Olivia Munn reading the introdution to her book: Suck It Wonder Woman!
Listen to some of the Audio Book:
Editorial Reviews:
"This book confirms why Olivia has garnered a massive supportive following–she's fearless, honest, relatable, and truly funny."
-Elijah Wood
"If Citizen Kane were a book, this would be it."
– Jon Favreau
"A book only Olivia Munn could write. Better read it now; everyone'll be talking about it tomorrow."
– Stan Lee
This book so good. You buy now. Okay, bye."
– Olivia's mom
Front Cover and Text courtesy http://www.amazon.com/
Red Olivia Munn picture courtesy GQ Magazine