BLACK GOLD ONLINE PREMIUM LOOT CARD GIVEAWAY
Alien Cyborgs headed down to E3 again this year and collected a whole lot of swag just for YOU! We went to the Snail Games USA booth and collected a few Premium Loot Cards for their new game BLACK GOLD ONLINE. We will choose the winners and announce them via Facebook. Then we will send you your Code to download and receive a mysterious E3 exclusive pack that will give you an edge over your opponents.
Black Gold Online is an MMORPG by Snail Games set in a vivid world where innovative steam punk clashes with traditional High Fantasy. Denizens of  the work seer to lay total dominance upon the mysterious energy source known as Black Gold. Black Gold online: The fashionable styled MMO with the revolutionary game-play elements: mech battles, guild vs guild, Victorian Steampunk vs High Fantasy. Dragons vs Mechs, Massive Multiplayer online.
PREMIUM LOOT CARD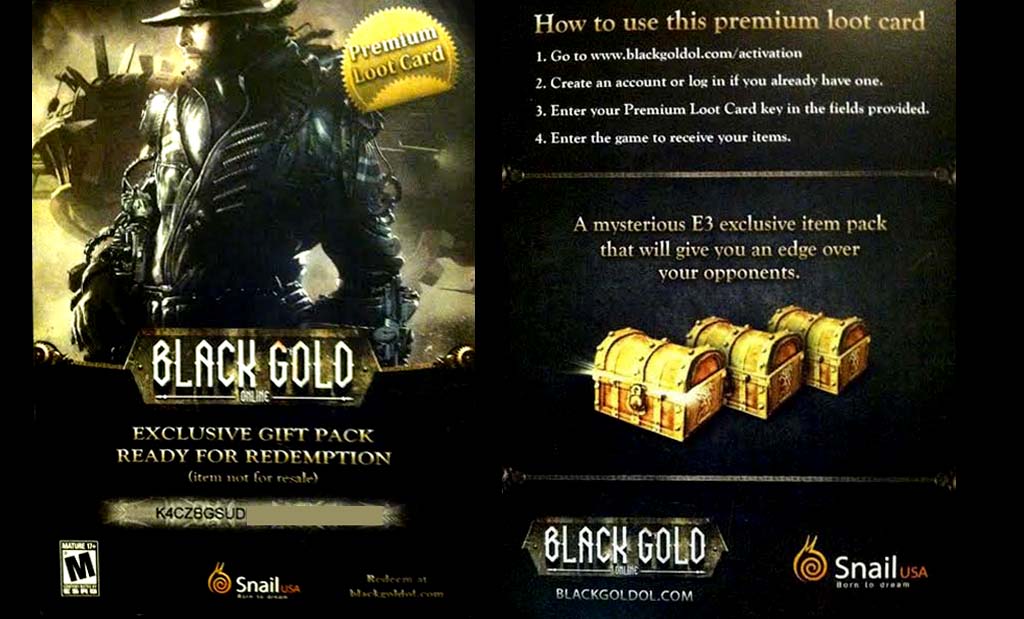 RULES:
1) Go  to our Facebook page and share the "GIVEAWAY" graphic onto your Facebook Page.
2) Leave a comment below on THIS page, with your name and comment.
We will announce the winners on our Facebook page on Sunday June 22. 2014 and deliver the CODES via Private Message.
Copy provided by Black Gold Wiki find out more by visiting the official page at BLACK GOLD ONLINE
GAME TRAILER
[youtube id="ksh5ZsaDTX0″ width="600″ height="350″]
SPEAK OUT WITH YOUR GEEK OUT
---
Disclaimer: The views and opinions expressed in these articles, blogs and podcasts are those of the individual authors and pod casters. They do not necessarily reflect the policy or position of AlienCyborgs.com, their hosting company or any other of their affiliates. These blogs are intended as entertainment and opinion pieces only. These blogs may contain strong language, sex and control substance use, these blogs are meant for a mature audience only.
All Images, Videos, Characters, Logos and I.P are property of the prospective owners and appear courtesy of the owners and are not owned by Alien Cyborgs. Alien Cyborgs does not own any of the rights to any of the properties seen in this post.