AUTO-EROTIC OVERSATURATION
Or
When Hollywood "has its way" with superheroes, why is the result so often just a bunch of smashed cars?
____
Let me preface this rant by admitting up front how completely and unabashedly rant-y it's going to be.
Quite a number of years ago, I was an eight year old boy.  I smashed Tonka trucks, I melted the tires of Hot Wheels cars, and pushed the structural stress limits of Optimus and the gang until they could no longer properly live up to their brand name.  I get it…destroying vehicles is cool.
Destroying REAL vehicles in a movie is VERY cool.  So what's my beef?  Well, it's getting a bit typical.  Most people don't share my views here, but to me "typical" is the dirtiest of words.  Fuck, shit, cock, Limbaugh…nothing's worse than typical.  I love the good, I love the bad, but I fucking detest the typical.  As a fortune cookie once told me, "familiarity breeds contempt."

What I'm getting tired of is seeing my favorite superheroes/villains use their awesome, larger than life (in some cases God-like) powers to again and again and again, smash cars.  What can I say, it just doesn't impress me anymore.  I think part of it is Hollywood trying to give the audience what they know it likes.  Decades of box office have proven that movie goers like exploding cars.  This is true, and totally on target if your hero is Bruce Willis…I don't want to offend any Hudson Hawk fans out there, but Bruce Willis is no Bruce Banner.  The Appropriate Level Of Destruction, or "ALOD", is much different from Bruce A to Bruce (double)B.
If a Willis character gets pissed he'll probably shoot you a few extra times and swear a lot.  If Banner gets pissed, he might drop a skyscraper on your ass. Bit of an ALOD differential there huh?
And that's really all I'm saying.  Superhero movies aren't quite traditional action flicks, they're not quite traditional sci-fi, and they're not quite traditional fantasies.  They're their own unique genre and deserve their own unique ALOD.
If you happen to be an avid comic reader like myself you probably know that the destruction of cars is not that common a sight, and certainly not to the frequency it is on film.  Just on a lark, I flipped through a couple of dozen (mostly Marvel) back issues of mine, and guess how many cars I saw blow up?
In case you think me overreacting, here's a brief list:
(as noted in my Bruce/Bruce example, non, or mildly superpowered characters are off the hook, as car explosions are their ALOD…this is why there's no Batman on here, despite there being a few dozen cars destroyed between just the two Nolan Bat-flicks)
ALOD LIST
Superman II – Good old general Zod…Sure some cars were destroyed in Superman tmp, but really it was our buddy Zod who first decided that eye lasers were best used to blow up late model Chevys.
  X-Men – In his best "power usage" scene in the movie, Magneto lifts up three cop cars and slams them down on top of three other cop cars.
  X-Men 2: X-Men United – Great movie, and almost completely devoid of auto death…almost.  When confronted by the po-po on the front porch of Bobby Drake's house, Pyro gets a bit pyrotechnic and blows up some cop cars.
X-Men:  The Last Stand – One of the worst offenders on this list.  But what do you expect when you rush into production to meet a pre-scheduled release date, try to squeeze two movie's worth of plots and characters into one film,  have a revolving door of young directors attached to it, and ultimately wind up with Mr. Milquetoast Brett Ratner at the helm.  In a way it's amazing it's not Batman and Robin!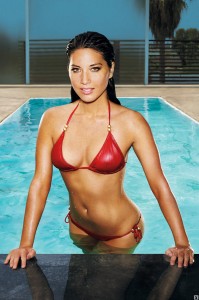 …while having earned few accolades for his films, Mr. Ratner is the envy of everyone with a pull list and a penis, as there's a good chance he banged Olivia Munn Watch This! @3:55
Back to the point…In the first scene of the movie, a young Jean Grey lifts all the cars in her neighborhood.
…Yes, that's Stan Lee and Chris Claremont looking on in awe, not at the floating cars, but at the disturbing misuse of their characters
Later, Magneto is rescuing Mystique from her travelling prison cell, so he…lifts a bunch of cop cars.  This is TOTALLY different from the first X-Men movie because this time he crushes them too!  When the end of the movie finally rolls out, and Maggie and friends are perched at the edge of the now Alcatraz-adjacent Golden Gate bridge, what does he do?  He lifts that fucking bridge back up, slamming it down onto Alcatraz island, utterly crushing the army guys, the Med center, and most importantly the kid who's the source of the cure!  No?  Hmm…let me think.  Oh yeah, he magnetically grabbed all the metal in the buildings, ripped them from their foundations and dumped them into the bay!  Wait what?  He didn't do that either?  Shit…Oh, now I remember, HE JUST THREW SOME MORE FUCKING CARS!
Let me stop a moment before some apologist says "But what about Mags lifting the Golden Gate bridge?  That's perfect ALOD Magneto!"  Admittedly, this is true…but I've omitted it because it's stupid.  Yeah, I said stupid.  It's in the script to be a showy, "let's destroy a famous landmark" scene, PERIOD.  Why the fuck is Alcatraz a medical research hospital now anyway?  Stupid.  Why does Magneto have to move the whole bridge to get his army across the bay?  Stupid.  How did said army get to the bridge in the first place?  I mean did a hundred tattooed militant mutants all carpool down from their woodsy hideout?  Did Magneto magnetically "airlift" them all?  And if so, why can't he fly them another quarter mile across the damn bay?
I kinda liked Kelsey Grammer as Beast though…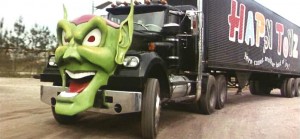 The Fantastic Four – In one of the few cool shots in the movie, the Thing shoulders a semi, crushing it, and causing a half dozen or so other cars to crash (and incidentally, if this wasn't a movie, killing the truck driver…And this was just some poor shmoe, not an EVIL truck driver, not the Goblin rig from Maximum Overdrive!)  Then toward the end of the film Dr. Doom blows up a cop car, causing the Thing to retaliate by, (you guessed it) throwing a car at him.
Hellboy – Hellboy jumps into traffic to save Agent Myers who's just been clipped by a speeding car,  and when another speeding car comes, well speeding at him, he pounds down his big stone hand of doom into the hood, sending the car flipping through the air.  It's similar to the aforementioned Thing incident, except the car flips up and over them, landing on its tires and setting the airbag off, thus giving us a bit more suspension of disbelief as to the driver surviving.
The Incredible Hulk– This one is maybe the worst of the bunch.  Director Louis Leterrier goes on an orgy of car smashing that would make Jake and Elwood Blues proud.   I'm not hating on the movie, I like it quite a bit in fact.  I'm only criticizing the unimaginative "let's just keep smashing cars" action.
When the Hulk goes crazy on campus he warms up by trashing a few army trucks…then a few more.  What does The Abomonation do the very first moment he goes outside the first time?  Throws a cop car down the street.  Then he blows up a few more…Then the military guys chasing him cause some accidents…Then Abby's just haphazardly tossing cars outside the Apollo…After getting hit by a rocket, he angrily charges the shooter, flipping over at least a half dozen cars on the way…Then he skateboards a taxi and slams it down on a jeep…Then the Hulk makes cop car boxing gloves…
HULK vs. ABOMINATION @ The Apollo  =  There IS NO Harlem in New York anymore.
–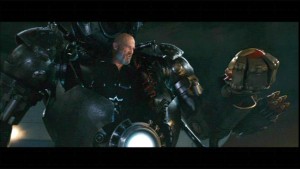 Iron Man – His first flight out ends with him falling on and crushing a sports car.  Toward the end of the movie The Dude gets all pissed off, builds a bigger, badder suit of armor and starts throwing cars at Iron Man.  They smash a few in their freeway battle.
Iron Man 2 – Ivan Vanko makes a scene at a Monaco racetrack by cutting formula one cars in half with his arc reactor powered whips.  Later at the expo, Iron Man's getting chased by a hacked War Machine whose shoulder cannon seems to fire Toyota seeking rounds.
In the film, he's only referred to as Ivan Vanko.  Generally, people call him Whiplash.  Really, he is a combination of a few different Iron Man villains, Anton Vanko (the original Crimson Dynamo),  Whiplash, who later became Blacklash(his specialty being high tech electro-whips), and Titanium Man, which is where we get the Russian heritage and stylish suit.
Thor – Here's another one that really got my goat!  Yeah, every now and then I slip into grandma speak…Thor's a frigging god-level character, and while they've got all the Asgardians powered down in the movie, Destroyer is still a 30ft tall, shiny, WMD!  But what does he do when he strolls into town?  He blows up some cars.  In a behind-the-scenes way, we know they built that whole town/set for the film, so my question is, why the fuck was it still standing at the end of the movie?  That should have been a parking lot of fire, a town-size version of the Balrog's litterbox! (what, you think The Balrog has a proper toilet with a stack of Maxims next to it?) All of Marvel movie America should have been reading the Daily Bugle in horror at the absolute decimation of poor Puente Antigua!
Green Lantern – Only minor auto death here.  Some fucking handi-capable looking space-cloud-octopus thing throws Van Wilder into a car.
And the special "Helping to Revive Detroit" award goes to:
Chronicle – This is an original screenplay not based on a comic property, so there isn't any established ALOD for these characters.  It gets this special category listing solely for lack of originality.  This movie is just all about cars.  They jokingly move one in a parking lot, run one off the road into a pond, crush one while pontificating about being an apex predator, float one up to the space needle, and spend the last ten minutes of the film just throwing/blowing them around downtown Seattle.  It gets more than a bit repetitive.
The Avengers – Yes this is what it's all about anyway.  This is why I'm worried.  I could not be more excited about this film.  It's literally the movie I've been waiting for since I was 11.  That said, when half of the action in the trailer is relying on:
1.  A Transformers-esque flying Mecha-Snake(fucking typical)…
&
2.  A city street full of flipping exploding cars…
Well, though I have every faith in Mr. Whedon, it makes my tummy rumble a bit.
To end on a positive note, here's just a few of what I'll call…
My Favorite Superhero Movie ALOD Moments:
X-Men:  First Class – Magneto lifts a sub/Magneto stops a grip o' missles.  This is some proper, full power Maggie action here.  Point of fact, he does the same missile trick (though to a smaller degree) and sinks a sub, both in Uncanny #150
…His sinking of that sub, and the subsequent deaths of hundreds of Russian seamen (tee hee) is part of what caused the two teams to clash in the original X-Men vs. Avengers back in '87.

_________________________
Fantastic Four:  Rise of the Silver Surfer – The Thing presses the world's largest ferris wheel.

_________________________
– Tony Stark shows off his suit by killing a bunch of terrorists and saving a village in Kerplakistan, then (mostly) out-flies some American F-22s.
_________________________
Hulk – The Hulk fx never quite work in this flick, making it pretty hard to completely "buy" the jade giant here, but even so, the extended "Hulk in the desert" sequence is still the closest thing to classic 60's Hulk that's ever been filmed.
_________________________
AND FINALLY, I'm awarding (having absolutely no Marvel authority to do so) an honorary "No Prize" 
to Sam Raimi and the Spider Man franchise.  Why?  Here's the stats:
Spider-Man – No cars get destroyed.
Spider-Man 2 – This one starts out in the negative, as Spidey actually STOPS a car from crashing, quickly webbing up a flying squad car before it flies into a crowd.  Now Doc Ock does flip over a taxi speeding at him, and later rips the door and trunk off of another one, but that's pretty minor.
Spider-Man 3 – not arguing suck factor here, just cars remember?  When the Sandman escapes after being spotted on the street, he blows down the street like a sandstorm knocking a few cars out of the way.  When an armored car loses control, it rear ends a taxi…the armored car later flips over.  Mary Jane is held hostage in a taxi webbed high in the air…it eventually falls.
That's all…in 3 movies!  Go Spidey!